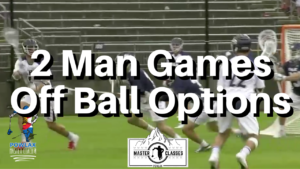 Team Registration includes 30 sub accounts for players and staff.
Welcome to our lacrosse master class on off-ball decision-making in 2 Man Games! In this course, you will learn about the choices and options available to off-ball players in various 2 Man Games situations. Patrick will guide you through the key principles and tactics of off-ball decision-making, providing you with the knowledge and skills you need to implement it effectively. Whether you're a beginner or an experienced lacrosse coach or player, this course will help you take your team's offensive decision-making within 2 Man Games to the next level. Don't miss this opportunity to learn from the best – sign up now!
This Master Class includes the "Executing and Defending 2 Man Games" PDF!
Master Classes Build Lacrosse IQ Fast