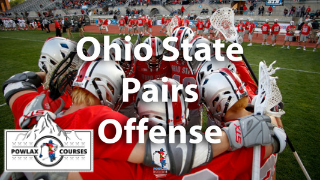 Team Registration includes 30 sub accounts for players and staff.
Welcome to our lacrosse master class on the Ohio State Pairs Offense! This course will take you through the offensive system that Ohio State used to crush Denver in 2017 on their way to a National Championship appearance. The pairs offense has gained popularity with the widespread adoption of 2 Man Game principles and is known for being extremely simple and requiring players to be diligent and make great decisions. Whether you're a beginner or an experienced lacrosse coach, this course will provide you with the knowledge and skills you need to successfully implement the Ohio State Pairs Offense in your team's game plan. Don't miss this opportunity to learn from the best – sign up now!
This Master Class includes the Ohio State Pairs POWLAX Playbook PDF.
Master Classes Build Lacrosse IQ Fast