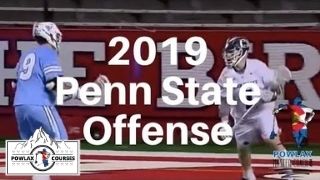 Team Registration includes 30 sub accounts for players and staff.
Led by, 2019 Tewaaraton Award Finalist and record-setting distributor Grant Ament (1) and sniper Mac O'Keefe (3), Penn State scored 17.94 goals per game and had the #1 offense in 2019. Although the performance of Ament and O'Keefe drew the headlines, neither would have achieved nearly as much without the exceptional play of Dylan Foulds (14), Nick Spillane (13), Jack Kelly (25), TJ Malone (7), and a few others. Anytime the defense gave Ament or O'Keefe too much room they would get burned. When the defense adjusted to help cover Ament or O'Keefe the others would capitalize. The six players were like piranhas, combining to be nearly unstoppable.
This Master Class will walk you through the 3 phases of the Penn State Offense: The 3 High Pairs Offense, 1-4-1 Wing Pairs Offense, and the Picks Behind Offense.
This Master Class includes the Penn State Offense Playbook PDF
Master Classes Build Lacrosse IQ Fast